The most exclusive international event of the Venice Carnival!
Il Ballo del Doge is the most lavish costume party of the Venice Carnival.
Il Ballo del Doge is a festive masquerade, a refined society gala, an opulent banquet and an astonishing show. All this and much more…
Il Ballo del Doge is an intriguing collective game, orchestrated by the Venetian Antonia Sautter, charming stylist and world-famous luxury event planner, which has always taken place in the dreamlike setting of a Venetian palace.
Il Ballo del Doge is a flight of fancy, a triumph of the senses, the luxury of inhabiting a beautiful dream that lasts an entire night. Il Ballo del Doge is a kind of magic!
Il Ballo del Doge is the most exclusive international event of the Venetian Carnival, in which all the guests participate in splendid costumes of sartorial excellence wearing typical Venetian masks.
Il Ballo del Doge is a memorable, one-of-a-life experience that will enchant all your senses.
Are you ready to dream? BOOK NOW
'One of the ten experiences one must absolutely live in life'
"… because dreaming is an art… and a luxury I give myself!"
Described as 'one of the ten experiences to be had at least once in a lifetime' by American broadcaster ABC, the Ballo del Doge® is the highlight of the Venetian Carnival.
Il Ballo del Doge was conceived by the Venetian costume designer and luxury event creator, Antonia Sautter, and takes place on a single night – that of Shrove Saturday – in the dreamlike setting of a splendid Venetian palace. Just like a dream…
Il Ballo del Doge is an exclusive grand gala where pomp, bubbles, costumes, music, art, venetian masks and good food are the main ingredients of a grand soiree skillfully orchestrated by Antonia Sautter – world-famous entrepreneur, stylist and event-planner – who has always been the soul, mind and artistic director of Il Ballo del Doge.
True to itself, yet different and original in the theme proposed at each new edition, Il Ballo del Doge has been defined by the international media in many different ways: sumptuous costume ball, luxurious masked carnival, star-studded gala dinner, sumptuous dance party, unmissable rendezvous and much more…
Il Ballo del Doge is all of the above and more importantly, an artistic production boasting an exclusive cast of over 100 international artists, including musicians, tightrope walkers, contortionists, actors, singers and dancers. The sumptuous costumes designed and made by Antonia Sautter for her cast, as well as the marvelous sets and refined mise en place with floral decorations studied down to the smallest detail, are just some of the emotions guests experience.
Since 1994, Antonia Sautter has produced each edition of Il Ballo del Doge capturing the spirit of the times, without forgetting, indeed enhancing, the great tradition of the Venetian Carnival.
The Doge's Ball is a tribute to the city of Carnival, the 'Blue Queen' Venice suspended between lagoon, art, seduction, glamour and international splendour.
Il Ballo del Doge was born in 1994 out of the love for Venetian glamour and the personal artistic research of the fashion designer and creator of luxury events Antonia Sautter. The idea of organizing a lavish and festive Masquerade, as was done in the historical era of La Serenissima or Casanova, took shape when the Venetian Antonia Sautter collaborated with Terry Jones, a well-known member of Monty Python, on a BBC costume documentary on the Crusades.
The collaboration with Terry Jones gave birth to the first Ballo del Doge signed by Antonia Sautter; a carnival party in period costumes, which in just a few editions was transformed, thanks to Antonia Sautter's imagination and professionalism, into a spectacular kermesse capable of capturing the spirit of the times and anticipating the fashions of the future without ever forgetting, indeed enhancing, the great tradition of the Venetian Carnival.
Il Ballo del Doge is an expression of the best Venetian carnival esprit. Il Ballo del Doge transcends the experience of a masquerade ball or gala in period costume to become an exclusive international happening, attended by celebrities from the international jet set and all those in search of sumptuous and exclusive dreams.
The dress code of Il Ballo del Doge, the most refined and luxurious private party of the Carnival of Venice, is the period costume: you can choose yours from the over 1,500 sartorial creations of the Atelier Antonia Sautter, an authentic international showcase of high Venetian craftsmanship and 'Made in Venice' excellence.
THE MOST EXCLUSIVE EVENT IN VENICE…
-Fortune-
'The most exclusive masquerade party in the city'
-Fortune-
'A dream that transports you to an era of magic and magnificence'
-CNN Report-
'Il Ballo del Doge is a triumph for the senses, a once in a life experience…'
-Monsieur-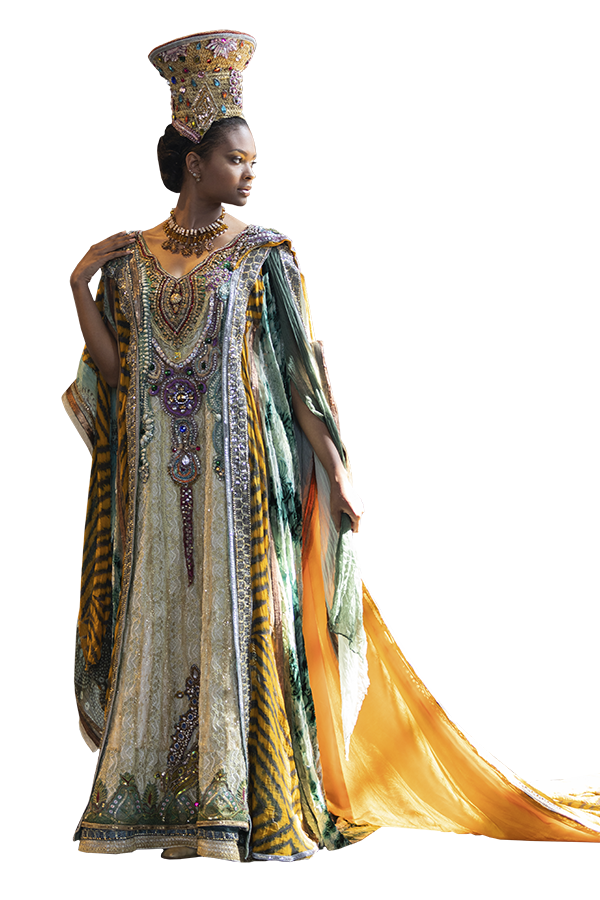 'A dream come true … this is one of the things to do once in your lifetime. True Life Art'-Tina De Medeiros-
Il Ballo del Doge 2023, XXX edition
"Yesterday, Today… Forever Antonia"
Yesterday, today, forever… Does time exist or is it an illusion?
The temporal doors of The Greatest Dream are about to open, the imaginative realm of an indefatigable dreamer, Antonia Sautter, the Grande Dame of the Venetian Carnival, who this year invites you to celebrate the 30th edition of her grandest dream-in-progress, Il Ballo del Doge.
On Saturday 18 February 2023, in the majestic setting of the Scuola Grande della Misericordia, the gears of time will go mad with joie de vivre! A carousel of music, lights, characters and emotions awaits you that will trigger your fantasy, imagination and that art of amazement that everyday life sometimes robs us of.
It's time to do it in the most memorable way:
Haute Couture
Period Costumes
A tale of history, fashion and costume made in Venice
"Get dressed and dream!" Vanity Fair
In the Antonia Sautter Atelier, one can choose from over 1,500 period costumes and tailor-made creations, an original collection of dresses that spans the history of fashion from the Middle Ages to the Roaring Twenties, as well as stage costumes created from Antonia Sautter's dreamlike imagination and made especially for the cast of Il Ballo del Doge.
All costumes for the Venice Carnival signed by Atelier Antonia Sautter are unique Made in Venice pieces. All carnival costumes and dresses are distinguished by the unmistakable style of the Venetian costume designer Antonia Sautter and the creative and sartorial expression of Italian craftsmanship excellence.
Choosing, trying on and wearing a costume is an exciting experience, during which beauty and tradition, magic and pomp alternate in a space where time is suspended. A special moment of which the guest will always remember the emotions experienced.
Ballo del Doge accessories collection
Antonia Sautter designs, trims, sews, and alters all of the costumes for her artists and the Guests of Il Ballo del Doge in her Atelier, situated in the heart of Venice, close to Saint Mark's Square.
The experience of the costume fitting in her Atelier is a magical event where the time seems to stop, the first step towards Il Ballo del Doge.
Guests can dress up, assisted by Antonia's seamstresses and dressers, by choosing their costume carefully among a wide range of creations from all historical periods. 
The experience of the costume fitting in her Atelier is a magical event: the first step into a timeless world of dreams.
The skills of her seamstresses, who work all year round to get the perfection from any costume that Antonia designs, include costumemaking but also dyeing, printing, leatherwork, beading, corsetry, millinery, mask-making, jewellery-making and shoe-making, everything carefully handmade with a unique timeless style.
San Marco, 1652
30124 Venezia VE, Italy
P.IVA  IT02815180274
© 2022 All rights resererved